Get Connected with a FREE Connect Card
FREE stuff! FUN Stuff! Mental Health Stuff!
The Connect Card has been created by young people in Cornwall - they wanted a quick way to find information about emotional health and wellbeing. Something small and simple that could be kept handy in a wallet or phone case or on a key ring. So they invented, designed and created the artwork for the Connect Card.Any YP aged 10 - 16 in Cornwall can get Connected. Connect Cards will be available in schools and other places from the beginning of term. Just scan the Connect Card QR Code on your card to get:
Information about wellbeing and mental health
Signposts to support
Info about fun stuff in your local area (e.g. including ideas around 5 Ways to Wellbeing)
Free stuff / competitions /
Ways to 'get involved'.and have your voice heard about the things you care about!
Have you got your Connect Card yet?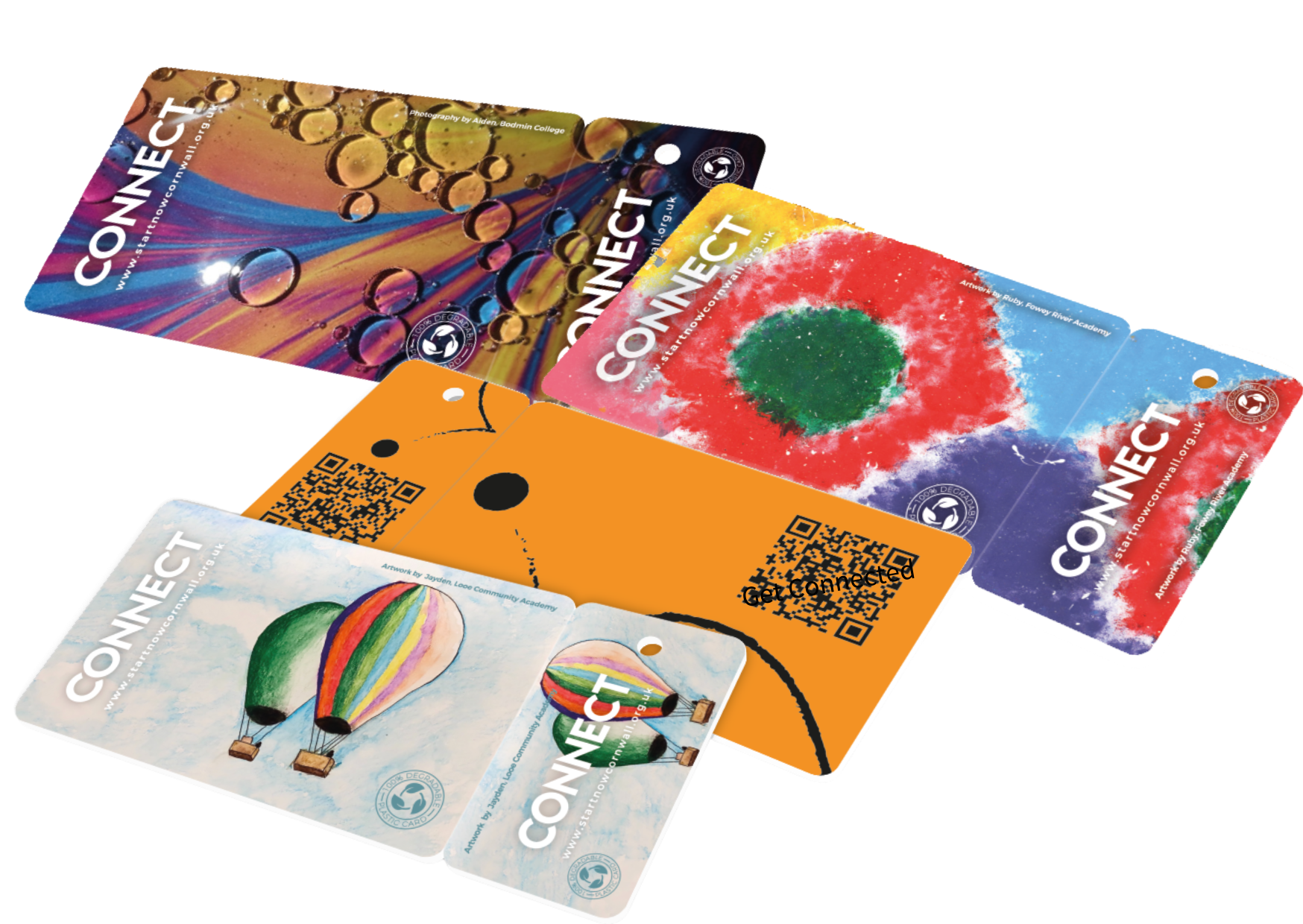 We've been working hard to get FREE Connect Cards out for young people iin Y6 (in primary) and Y7 -11 (secondary) throughout Cornwall.
Have you got yours?
You can also find them in
libraries
youth clubs and drop ins
by completing the form on this page and we'll pop one in the post
#Connect and earn Time Credits
Got a Connect Card? Do you...
... want to get more involved with #Connect? Help support your / others' wellbeing? Enjoy fun activities without spending money?
Then you need Tempo Time Credits!
You can earn TEMPO Time Credits to exchange for fab FREE stuff and activities. Grab a Connect Card and find out how!
Click to download a copy of this information
Want to help make Connect better?
Connect is a 'work in progress' - and will continue to grow over the coming weeks and months. So, we need your feedback and help...
Tell us what you like and don't like about the Connect Card. Share your ideas for things we can add. Want to learn how to manage a website / add new content - then join the Connect Team... A group of young people who will help us maintain, manage and add content to the Connect website... and you can earn Tempo Time Credits towards things like cinema tickets, days out and more.
Why Can't I see Connect on the Start Now website?
Great question! We're keeping the Connect Card content separate from the main Start Now website so that we encourage as many 10-16 year olds (in Cornwall - and the Isles of Scilly too) to get hold of the Connect Card and keep it to hand in case you need help or support... or just to find the latest competitions and giveaways.
Connect poster and guide for adults
Want to encourage your school or setting to #Connect? Give them this guide and poster so they can learn more and order cards.
If you can't get a card from school, order one using the form below.