Current Opportunities to get involved and have your say
Cornwall Youth Council - Launched 30th April 2022!
ACTIVITY DETAILS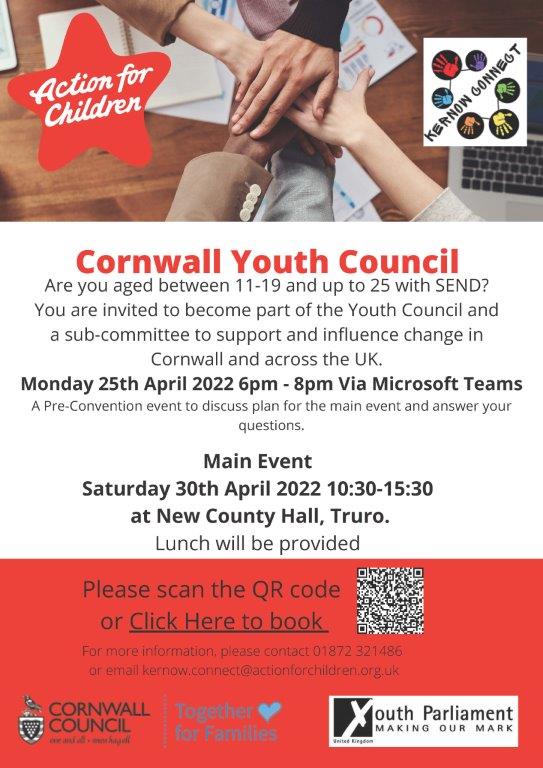 The Cornwall Youth Council Convention was an opportunity for young people 11-19 (up to 25 with SEND) to create and establish a Cornwall Youth Council with the support of County Councillors and Council Officers.

Took place on Saturday 30th April 2022 from 10:30-3:30pm. New County Hall Truro.

Activities for young people aged 11 – 19 years and up to 25 years with SEND.
Find out more about how this event went here.
Make Your Mark and Member of Youth Parliament voting is NOW CLOSED!
Results of the Make Your Mark can be found here and Member of Youth Parliament elections 2022 will be coming soon!
Young Commissioners
The Young Commissioners Programme is coming to Cornwall from January 2022. This rewarding scheme which you can participate in, will help ensure that the voice young people is central and at the heart of creating the Cornwall you want.
The Programme will give you the opportunity to:
Get involved in training and gain an accreditation and recognition for any work you do with us
Develop a career pathway as part of the future workforce i.e., apprenticeships and paid roles
Provide a young person's voice to be incorporated into the Local Authority decision making
Help the Council to check how well we deliver services for young people and their families
Work alongside Cornwall Council to improve how it involves young people in planning and delivering services that they or their families may use
To register your interest or find out more about the Young Commissioners Programme here in Cornwall, contact Stacey - stacey.taylor@cornwall.gov.uk
Carbon Neutral Cornwall Youth Ambassador Network
The CNC Youth Ambassador Network aims to give young people of all ages the opportunity to:
Share their ideas with other young people and be supported to take actions going forward
Get involved in regional, national, and international campaigns
Discuss and learn about issues that matter to them including green careers
Give young people the opportunity to talk and be listened to by decision makers in the council and wider
Be recognised for their time, ideas and efforts.
For more information, please visit Carbon Neutral Cornwall Youth Ambassadors | Let's Talk Cornwall or contact CarbonNeutral.Education@cornwall.gov.uk
Who's Who in MH
There is currently an opportunity to get involved in co-designing and co-creating a resource(s) to help young people learn about different roles whom they might already be working with or might work with in the future – find out more Who's Who : StartNow Cornwall.
Local Family Partnerships Survey
Local Family Partnerships are wanting to gather the views of children and young people, and parents and carers, about current services on offer and ideas for developing new ways of working in the future. The information you provide will be used (alongside other information) by your Local Family Partnership to plan services or the next two years Results of the survey can be found here - Local Family Partnerships | Let's Talk Cornwall
Active Cornwall
The Cornwall School Games team want to understand what the Birmingham 2022 Commonwealth Games Legacy looks like for children and young people in Cornwall – and we need you to help us!
With your expertise and experience from the Annual Conversation, we want you to work with students in schools to develop their leadership skills and teach them what you know. These young people can then gather the views of their fellow students and help us understand how we can celebrate the Birmingham 2022 Commonwealth Games in Cornwall and motivate others to get involved in more sport and physical activity.
Listening to young people will also help to change the way we deliver the Cornwall School Games going forward too, as we shape the programme based on what they want and need from their school sport. What new sports should to be in the programme? How should we engage children and young people who don't always feel confident to get involved in sports competitions? What motivates young people to get involved in sport? You can help us answer these questions.
Email megan.hilley@cornwall.gov.uk to find out more about how you can get involved in this work and help capture young people's voice.
Community Safety – Safer Cornwall Partnership
Coming soon – keep an eye here for details and information over the next couple of months.
Let's Talk Transport
We are refreshing Cornwall's Transport Plan and want to know what you think about it.
Since the Plan was first published in 2011, some big changes have happened to our society. Most notable, the Covid-19 pandemic and a recognition that we face a Climate Change crisis. These and other factors will affect how people travel and goods are moved. We need to update the Transport Plan to take these changes into account, so that transport is well planned for the next decade.
You can see a copy of the draft Cornwall Transport Plan here.
The Plan has six goals and is supported by objectives, policies and proposals. We'd like to know if you think the Plan goes far enough to deliver the following vision:
Transport in Cornwall will strive to be excellent and carbon neutral. Our transport system will connect people, communities, businesses and services in a way that enhances quality of life, is reliable, efficient, safe, healthy and inclusive. People will choose to travel in ways that will have a low impact upon the environment and other people.
To find out more and to take the survey, which is live until 24 December, please visit the link below.
https://letstalk.cornwall.gov.uk/lets-talk-transport
For any questions or to find out about future pieces of work around transport, please email connectingcornwall@cornwall.gov.uk
The Youth Voice Forum
The forum is co-chaired by Youth Employment UK, Princes Trust, Impetus, Institute of Employment studies, Learning and Work Institute, Youth Futures Foundation and managed by Alesha Patel (alesha@youthemployment.org.uk), a trained youth worker. Young participants can be involved as much as they like, and meetings are typically held once a month on a range of topics. There is no additional commitment outside attending meetings but there are additional opportunities to be involved in the YEGS wider work should they wish to be involved. Young participants are not required to have any level of experience other than their own lived experiences, and all are welcome.
To find out about some of the previous sessions, you can find some short articles below:
- Disability and additional needs
The latest meeting explored the topic of Self employment on the 18th December 12pm-1:30pm. When we know a date and topic for the next meeting, we will update here.
Feel free to contact Alesha if you want any more information regarding the Youth Voice Forum and Youth Employment Group.

Future topics:
Apprenticeships and traineeships
Youth justice/Offending
Cornwall Council's draft budget for young people
Cornwall Council plays a big part in people's lives, and every year, they spend over a billion pounds providing public services that you, your family and your friends use every day. They are told how much money we have and then they need to decide how best to spend it. They'd like your feedback about their plans for next years budget and the priorities we are focussing on.
Thank you for taking part. Please note the survey is now closed. We will update this section with the results from the survey as soon as we have them.
Book Club
Sometimes books can be a great to get advice and information about wellbeing and mental health.
Both non-fiction books and stories can be great.
We wanted to share some of our favourite books and ask you for your ideas for books to feature on the website.
If you have a book to suggest - write a short review, send us details of the book and picture of the front cover. We'll add your review to our blog.
Check out some of the books other young people have reviewed on our blog